His enthusiasm is contagious! You should all play it if you have an xbox360.
My friend made this game called Braid, and it just got the Soulja Boy seal of approval.


I just received this from a complete stranger:


I don't understand your post at all. I can't figure what you are trying to say. So I figured I would just ask

WHAT ARE YOU TRYING TO SAY.

the librarian thing kinda works. I GUESS

Do you want to meet a cool guy that would treat you right????

Or WHAT???????????


I think he might be the one guys!

If not, I'm also waiting on a reply from a lovely guy from Malaysia who "really loves to watch a woman cry." Swoon!

---


1.Yeah, he was big landowner, he was a bad mouthbreather

2. That's all I wanted, something special, something sacred in your eyes
Father Figure - George Micheal (somedayseattle)

3. Forever doesn't mean forever anymore

4. I've been feeling dull as a coat hanger, pretty as a picture of a patient on a fresh iv
Mandy Goes to Med School - The Dresden Dolls (excusemesenator)

5. Long goes the night, longer the day

6. Tie yourself to me, no one else

7. Well I've been elected to rock your asses till midnight

8. You're older than you've ever been, and now you're even older
Older - They Might Be Giants (petre)

9. I never want to be seen as cheap, I saw the tears in his eyes and I thought, that's sweet

10. You can only talk so much about things that are never ever going to happen
Yellow - Okkervil River (excusemesenator)

11. These walls are paper thin and everyone hears every little sound
Paper Thin Walls - Modest Mouse (excusemesenator)

12. The ladies in my dreams are so obliging
Seas to Far to Reach - Okkervil River (excusemesenator)

13. He's seen me so clearly, come over and get my number

14. I am not you senorita, I am not from your tribe

15. By the desperate 'n' confused emotion of the youth

16. If he's the big boss and you're the hot sauce

17. Here I am back home again, I'm here to rest
Black Sheep Boy - Okkervil River (excusemesenator)

18. All that I have is this dull paring knife

19. Oh oh my my my, my man's up all night

20. This is how it works, it feels a little worse
On the Radio - Regina Spektor (friendhamster)

21. I've got the new sincerity
Fake French - Le Tigre (excusemesenator)

22. I have a tale to tell

23. hold my head we'll trampoline
Velouria - The Pixies (excusemesentator)

24. As loud as hell, a ringing bell
I Bleed - The Pixies (excusemesenator)

25. Its you that I adore you'll always be my whore
Ava Adore - Smashing Pumpkins (somedayseattle)

26. Tuna, rubber, a little blubber in my igloo

27. All of the stage names evaporate and it's just a blood flushed and hard rushing race
Title Track - Okkervil River (excusemesenator)

28. She will kiss you till your lips bleed, but she will not take her dress off
Sailor Song - Regina Spektor (petre)

29. Do you not hear me anymore I know it's not your thing to care
Battle of Who Could Care Less - Ben Folds Five (voodooskeleton)

30. She was going with a cinematographer everyone knew that he was really a pornographer
Lounge (Closing Time) - Modest Mouse (excusemesenator)


Guess, guess, guess!
Ok, my people, you know how this works. I've posted the first line of the first 30 songs on shuffle. You tell me what the songs are. I actually doubt that many of these will be figured out, not because I'm on the ultra cool obscure band indie tip or anything, just that no one ever seems to know them. If no one tries and I don't get responses though, I will assume no one likes me and I'm totally unpopular. And I will cry and cry and cry.



I have a crush on every boy <3
It's Valentimes!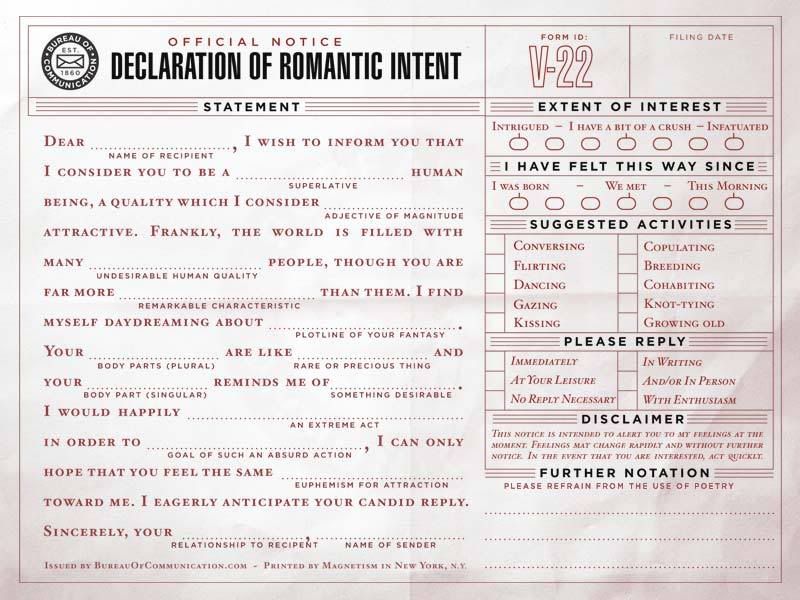 From the
Bureau of Communication
I honestly cannot imagine any other valentine that would make me squeal with delight the way receiving this one would. It's perfect in every way.
I luuuuurve this band so much. If I had to choose between killing my mom or never hearing Okkervil River again, well I probably wouldn't kill Mom, but it wouldn't be an easy choice.